Brave Youths! Fasts and Protests continues all over Tamil nadu
Student protests demanding justice for war crimes in Sri Lanka gathered momentum across Tamil Nadu on Monday, with class boycotts, fasts and demonstrations being reported from various cities and towns.
The protests intensified after eight students of Loyola College here, who were on an indefinite fast since Friday, were taken into police custody in the early hours.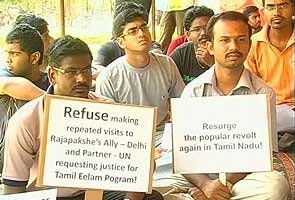 Students in about 25 colleges in the State abstained from classes, accusing Sri Lanka of targeting innocent Tamils during the war against the LTTE. There were reports of relay fasts in at least 14 places.
Demonstrations or processions were held to demand that India vote against Sri Lanka in the ongoing UN Human Rights Council session in Geneva. Some students belonging to government arts and law colleges burnt effigies of Sri Lankan president Mahinda Rajapaksa.
Police said they had scaled up security arrangements for Sri Lankan establishments in Chennai.
In Chennai, students said the arrest of their fasting friends was totally unanticipated as it was a non-violent protest, but the police maintained that they had to step in because the fast was creating law and order problems. Nearly 40 of their supporters were taken to a community hall in Arumbakkam and held there till Monday morning. Students from several city colleges thronged Royapettah Hospital, where protesters whose fast was aborted were administered glucose. By 5 p.m. on Monday, the students were discharged from the hospital.
"We have decided to end our protest because it has created enough awareness among other students. Now, we will look for other ways to protest against the injustice by the Sri Lankan government," said a protester.
Groups of students also protested in Presidency College, while 15 students of Ambedkar Government Arts College started a fast on Monday evening with 200 supporters. Students from St. Joseph's College, Tiruchi, St. Xavier's College, Palayamkottai, Government Law College, Tirunelveli, Manonmaniam Sundaranar University, Tirunelveli, Government Arts College, Coimbatore and two youths in Tirupur began indefinite fasts. Class boycotts and other forms of protest were reported from Coimbatore, Erode, Krishnagiri, Dharmapuri and Mannargudi.
On the other Hand Union ministers AK Antony, Ghulam Nabi Azad and P Chidambaram are likely to meet DMK chief M Karunanidhi today in a bid to placate him after he threatened to snap ties with the Congress-led UPA government over the Lankan Tamils issue. Mr Karunanidhi wants the Centre to amend the proposed UN resolution to incorporate the demand for an international probe and time-bound action against those who may be found guilty of war crimes in Sri Lanka.
Meanwhile, college students across Tamil Nadu have intensified their protests, demanding that India move a resolution against Sri Lanka at the UN's human rights body meet to press Colombo to acknowledge commission of genocide against its Tamil population.
Tamil Nadu Chief Minister J Jayalalithaa today wrote to the Prime Minister, saying that "India should move amendments to strengthen US resolution on Sri Lanka at the UNHRC," and that it must "take a historic, strong, and courageous stand on the issue".
Last week, Mr Karunanidhi had said, "If India doesn't make amendments, we will pull out our ministers and our support to UPA is doubtful," after he wrote a letter to Prime Minister Manmohan Singh and UPA chairperson Sonia Gandhi, saying he felt "let down" by the government on the issue.
Mr Karunanidhi's threat came despite Finance Minister P Chidambaram hinting at a possible vote against Sri Lanka. "I'm confident that if phrases in the UN resolution sought credible independent international probe, India would support it," Mr Chidambaram had said last week.
The government has so far been non-committal over its stand on the Lankan Tamils issue.
With 18 MPs, DMK is the second biggest constituent of the Congress-led UPA, providing crucial support to a government that has, of late, been tested vigorously by several coalition partners.
The US-sponsored motion against Sri Lanka puts the island nation in the dock over alleged war crimes and rights violations against Tamil civilians during the final phase of the war against the Liberation Tigers of Tamil Eelam (LTTE). Last year, India had supported a similar resolution following pressure from political parties in Tamil Nadu.
PLEASE SUBSCRIBE AND SUPPORT US !!!