Students Protest for Tamil Eelam Continues| Tamil Eelam Protest In Marina
Several hundreds of thousands people across Tamil Nadu took to streets on Wednesday in a students-led demonstration unprecedented in recent decades in Tamil Nadu, denouncing the US-tabled empty resolution further diluted by New Delhi at Geneva, and demanding international investigations and plebiscite on the question of Eezham Tamils. Peaceful demonstrations took place at every part of Tamil Nadu, including all the major cities. Conservative estimates put the total number of participants, mostly students, at a million. The positions taken by Washington and New Delhi, the leading architects and abetters to the genocidal war in the island, in bringing out a deceptive resolution at Geneva have contributed immensely to the confirmed awareness among the people of Tamil Nadu that Tamil Eelam is the only solution to the genocide-affected Eezham Tamils, political observers in Chennai commented.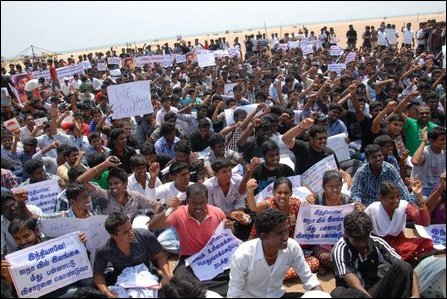 The Student Federation for the Liberation of Tamil Eelam, a spontaneously formed movement of students called for the demonstration on Wednesday. In its formation the movement found inspiration from the people's struggle against the Koo
dangku'lam Nuclear Power Plant that started at a village called Idintha-karai in Tamil Nadu.
Even on Wednesday, all the school children of Indinthakarai village came together in an emotional rally carrying in their chests the photos of the slain 12-year-old Balachandran Prabakharan
Female students took active part in the civil disobedience protests held in all the cities, towns, villages and schools.The organizers said the protest was a big success in unequivocally giving articulation to the Tamil struggle for justice...
Mr Rajmohan, a doctoral student at the Indian Institute of Technology (IIT), when contacted by TamilNet said that the protesting students across the State had unanimously sent a clear message on the uselessness of the resolution proposed by the USA, as it failed to address the genocide faced by Eezham Tamils and as it skipped calling for international investigations on Sri Lanka.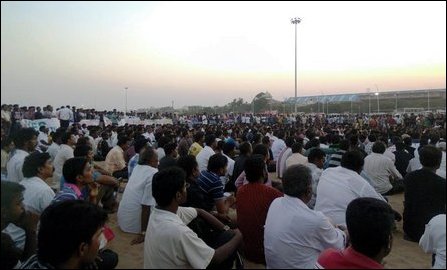 The student movement was demanding a UN plebiscite, he said, adding that majority of students from other states in the IIT too was in solidarity with the student community in Tamil Nadu.
At several places students were seen fasting en bloc, numbering at least around 500 on each instance.
People from other walks of life also took part in the protest.